We have designed our project around agile principles that are common in the start-up world.
What is agile?
Agile is a set of values and principles used in software development and project management. Agile focuses on advancing a project in small steps, thus delivering incremental value at each step. Evaluation of the plans and results take place continuously. This helps to ensure that the project is moving towards its aim at every step.
How is Alsama/tech Agile?
We started small – a pilot project with 40 students. We decided what we wanted to achieve and how we would measure this. Then we iterated on our plan. This year we are teaching our courses to 200 students, and based on what we learn from this, we aim to increase this number next year.
Our Impact
200 students learning IT skills in 2022 (400% increase from previous year)
55% of students are female
Project has been made possible via donations. 100% of computer equipment was donated by our corporate sponsors. See how you can help.
We employ teachers locally, keeping their revenue in the community.
We aim to train some of our students to become future teachers.
Results
To maximize the impact of our work, we follow the Build-Measure-Learn feedback loop, popular in start-ups. This gives us feedback against our objectives to help us adjust and constantly improve. This requires us to set objectives and measure our results against those objectives. Below is some data about our current project.
Students' previous computer experience
We want to ensure that our lessons are suitable for the level of the students. that's why we perform a needs assessment before the start of our lessons. This involves asking the students about their previous experience using computers (if any). Although many of our students have mobile phones, the majority have never used a computer before.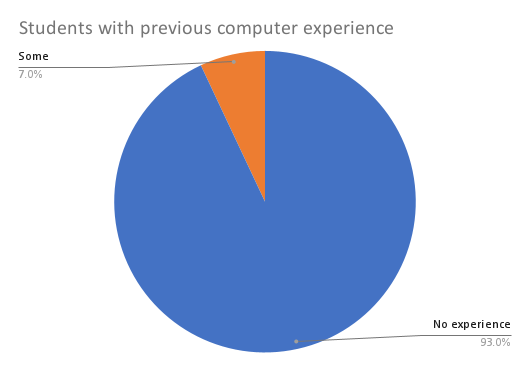 Measuring progress throughout the course
We want to make sure that our course material is suitable for our students and their education level. We do this by setting a number of learning objectives for each class depending on their initial level. We then set practical projects for the students that allow them to practice their new skills and allow us to measure their progress. In this way we can adapt subsequent lessons to follow the students' progress. the following is an example of the metrics we use to make sure that our students are leaning the material, and the educational material is the right level for their capabilities.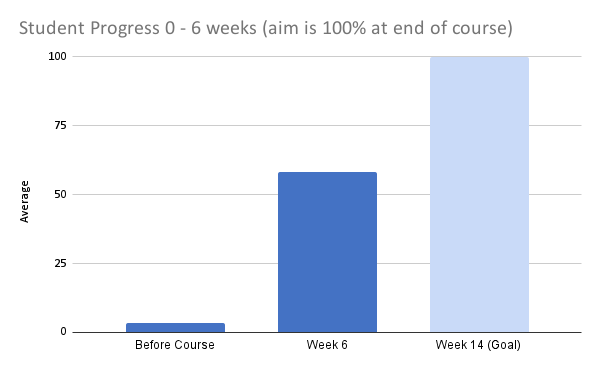 The above graph shows the students progress after 6 weeks, based on an expectation that they will lean 100% of the course material at the end of the course. Below you can see how we measure this. We assess the students knowledge at the beginning of the course and again at regular intervals. This assessment takes place as part of the teaching process, rather than via exams or tests. This allows us to adapt the program to ensure that the students are attaining their goals and successfully learning new skills.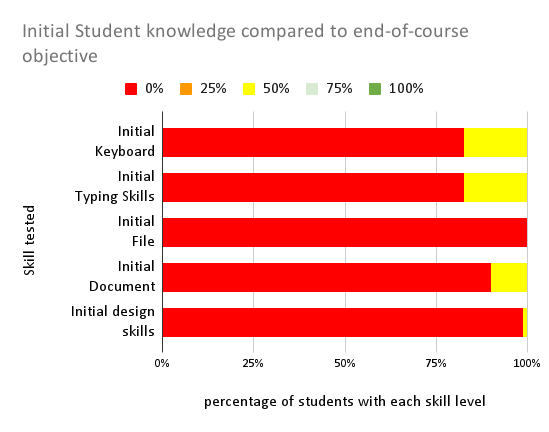 In this first graph you can see that the majority of the students had no knowledge based on the pre-defined categories (using the keyboard and typing skills, creating and managing files and folders, creating and modifying documents – see below). After 6 weeks, you can see the students progress below: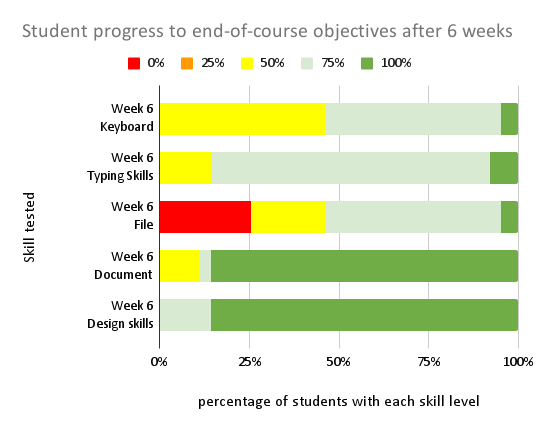 What are we measuring?
We are assessing the students proficiency with the following skills:
Keyboard Familiarity: Can the student use the keyboard functions such as ENTER, DELETE, CURSOR KEYS, CAPS and SHIFT, and keyboard shortcuts such as CTRL-C, CTRL-V etc?
Typing Skills: Can the student use the keyboard to enter text, including capital/lower case Latin letters, Arabic text, numbers, and special characters ($, %, @, +, = etc)
File Management Skills: Can the student create, open and save documents, and create folders to organise their files?
Document Creation Skills: Can the student create a document, enter text, apply styles (bold, italic, underline, font type and size etc) to the text?
Basic Design Skills: Can the student search for an image on the web and insert it into their document? Can the student modify the design of a document by adding columns, tables etc?